The European Archaeology Days (EAD):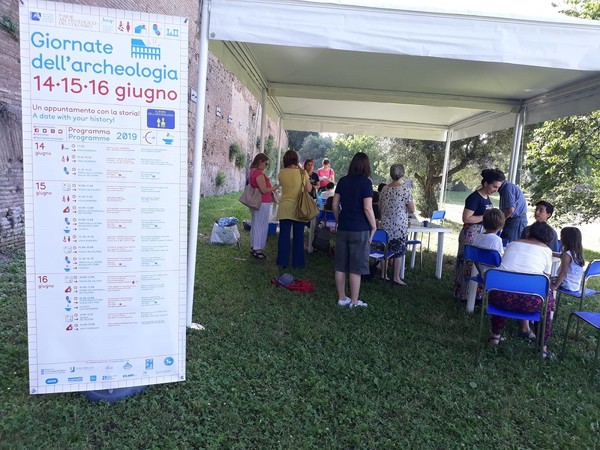 Since 2010, the French Ministry of Culture has placed the co-ordination and promotion of France's National Archaeology Days (JNA) in the hands of the National Institute for Preventive Archaeological Research (Inrap).

These three days will be used to raise awareness and familiarize European audiences with all aspects of archaeology. A range of original and festive events will be organized, to allow families, schools, students, history enthusiasts or the merely curious to discover their archaeological heritage. Visits to places that are not normally open to the public (excavation sites, research centers, archaeological collections, etc.), meetings with archaeological professionals (archaeologists, researchers, etc.), who will be describing their profession to the public, along with a range of entertaining and educational activities (an introduction to excavation, demonstrations, workshops, etc.), are just some of the wide variety of programs available at the European Archaeology Days.

In 2019 eighteen european countries participated for the first time: Austria, Belgium, Czech Republic, Estonia, France, Germany, Italy, Latvia, Lithuania, Malta, Poland, Portugal, Republic of Ireland, Slovenia, Slovakia, Spain, Switzerland, United Kingdom.
Video: an introduction to ceramology workshop for schoolchildren; children dig up ceramic shards that need to be reassembled in order to discover an object.
National Institute of Preventive Archaeological Research (Inrap):
Created by the 2001 law on preventive archaeology, the National Institute of Preventive Archaeological Research (Inrap) is the only competent public operator allowed to work throughout the country and across all periods, from Prehistory to the present day.

With thirty years of experience, they are involved on all types of sites: urban, rural, underwater, major transport and energy projects (roads, railways lines, etc.). Its role is to safeguard elements of France's archaeological heritage affected by infrastructural development by studying them.

As a national research institute, it carries out some 1,800 archaeological surveys and 250 excavations each year in partnership with private and public developers in mainland France and overseas. At the end of the work, Inrap is responsible for the use and dissemination of the results among the scientific community: more than 350 of its researchers collaborate with the French National Centre for Scientific Research (CNRS) and universities.

The Institute contributes to the development of archaeological knowledge, in conjunction with these institutions. By virtue of the large number of researchers it employs, the scope of its activities and the volume of data collected, it plays a leading role in many fields, particularly those in which preventive archaeology has had a profound impact on knowledge: the archaeology of settlements and population movements, the study of regions covered as a whole, the archaeology of human settlement within the natural environment, the study of economic flows, etc.

The missions of Inrap extend to the dissemination of archaeological knowledge to the public. As such, it organises numerous promotional operations, most often in collaboration with developers: opening of sites to the public, exhibitions, publications, audiovisual content, conferences, etc.