Chaque année, en partenariat avec de grandes institutions culturelles et scientifiques, l'Inrap organise un colloque international ouvert à tous, autour de questions liées à l'archéologie. Retrouvez les vidéos du colloque en partenariat avec le Musée national de l'histoire de l'immigration.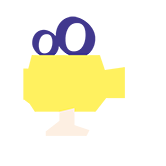 Digital offerings - Online videos and podcasts
Archéologie des migrations
Phénomène d'actualité récurent, les migrations constituent un enjeu sociétal. Toutefois, les grandes vagues migratoires ne sont pas le propre de nos temps contemporains. L'archéologie est là pour le rappeler. « Out of Africa », « révolution néolithique », « invasions barbares », « expansion bantoue » ou commerce triangulaire : les mouvements de population, leurs logiques, ont évolué au cours du temps. Volontaires ou contraints, ces déplacements ont induit diaspora, colonisation, métissage, intégration ou ségrégation.

Objet de recherche, le phénomène migratoire intéresse l'économie, la sociologie, l'histoire, l'anthropologie culturelle ou l'archéologie. Une archéologie diffusionniste l'a longtemps placé au coeur de ses théories. Qu'en est-il aujourd'hui ?

Le colloque « Archéologie des migrations » confronte les données et propose un réexamen critique des sources historiques, démographiques anthropologiques ou linguistiques. Il a pour ambition de mettre en perspective, dans la longue durée, de nouveaux scenarii.

Confrontant données archéologiques, historiques, géographiques ou démographiques, l'ambition de ce colloque international est d'aller bien au-delà de la simple observation des mouvements de population à grande échelle, en abordant les contacts entre les migrants et les sociétés rencontrées. Il rassemble 30 chercheurs de tous horizons.

Press contact:
Mahaut TYRRELL
mahaut.tyrrell@inrap.fr
+33 (0)6 07 40 59 77
Access map
2.3270492553710938
48.82785415649414