European Archaeology Days (JEA) 2020 trailer
The European Archaeology Days (EAD):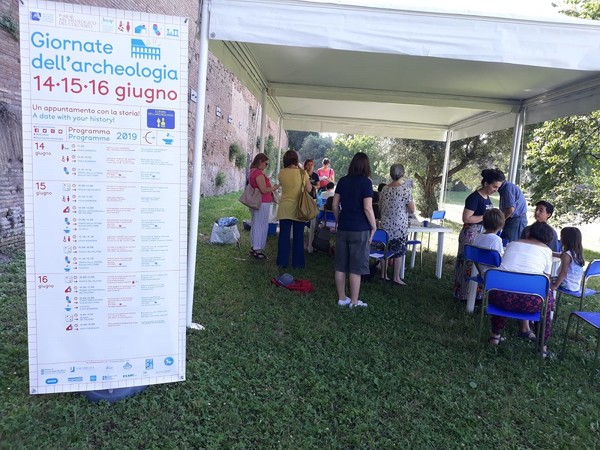 Since 2010, the French Ministry of Culture has been entrusting the National Institute for Preventive Archaeological Research (INRAP) with the co-ordination and promotion of National Archaeology Days (JNA).


During these Archaeology Days, all those involved in archaeology are mobilized to introduce the public to the treasures of their national heritage and the secrets of the profession. Archaeological excavation operators, research organizations, universities, museums and archaeological sites, laboratories, associations, archives and local authorities are all encouraged to organize innovative, original and interactive activities for the public.


In 2019, 1,600 events will have reached 220,000 people in 515 municipalities in metropolitan France and overseas territories and in 663 locations. More than 500 organizers were mobilized, and nearly 150,000 visits were made to the dedicated website during the event.


The JNAs have been extended to Europe in 2019. Seventeen countries participated for the first time: Austria, Belgium, Czech Republic, Estonia, Germany, Italy, Latvia, Lithuania, Malta, Poland, Portugal, Republic of Ireland, Slovenia, Slovakia, Spain, Switzerland, United Kingdom.


In 2020, the National Archaeology Days will become the European Archaeology Days.
Video: an introduction to ceramology workshop for schoolchildren; children dig up ceramic shards that need to be reassembled in order to discover an object.
National Institute of Preventive Archaeological Research (INRAP):
Created by the 2001 law on preventive archaeology, the National Institute of Preventive Archaeological Research (INRAP) is the only competent public operator allowed to work throughout the country and across all periods, from Prehistory to the present day.

With thirty years of experience, they are involved on all types of sites: urban, rural, underwater, major transport and energy projects (roads, railways lines, etc.). Its role is to safeguard elements of France's archaeological heritage affected by infrastructural development by studying them.

As a national research institute, it carries out some 1,800 archaeological surveys and 250 excavations each year in partnership with private and public developers in mainland France and overseas. At the end of the work, INRAP is responsible for the use and dissemination of the results among the scientific community: more than 350 of its researchers collaborate with the French National Centre for Scientific Research (CNRS) and universities.

The Institute contributes to the development of archaeological knowledge, in conjunction with these institutions. By virtue of the large number of researchers it employs, the scope of its activities and the volume of data collected, it plays a leading role in many fields, particularly those in which preventive archaeology has had a profound impact on knowledge: the archaeology of settlements and population movements, the study of regions covered as a whole, the archaeology of human settlement within the natural environment, the study of economic flows, etc.

The missions of INRAP extend to the dissemination of archaeological knowledge to the public. As such, it organises numerous promotional operations, most often in collaboration with developers: opening of sites to the public, exhibitions, publications, audiovisual content, conferences, etc.